The first time is always a thrill!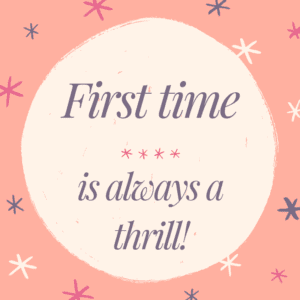 This is the first post on my marketing stories you can (L)earn from blog and I am very very exited!
But first: If you want to find out more about me, then please click here.
Now that you know a little bit about me, let me just tell you what to expect from this blog.
I'll be sharing my very best high quality marketing information and my personal journey marketing stories that you can learn and earn from. I'll keep the tone personal, funny (hopefully)
and educational. Sometimes I'll write about other peoples contend and link to a blogpost, sometimes I'll create a video for you and sometimes I'll just spill the beans in the post itself.
I'll also write about products, software and other cool resources that will help you in your online (l)earning journey – I promise only to send you what I have tested myself and know works. Usually I'll show you exactly how it works/worked for me.
Sound fair?
To give you my first super tip I'll tell you what I have been doing the past few days:
I've just enrolled in a course called 'Partnership to Success' by a well respected Internet Marketer called John Thornhill and over the next 12 months (and beyond!) I'll be learning how to create digital products and how to develop a sustainable online business.
I hope to finish the course a lot sooner as I already know the basic stuff!
You should go check it out here
Now, if you want to get all my super edutaining marketing stories
Simply subscribe to my newsletter, by opting in to the optin form to the right.
Talk soon!
Marlene Kristensen